Digitizing Laboratory Equipment with Embedded Cameras
Despite developments in technology, laboratory research and diagnosis is a late mover when it comes to digitization. Whether it's biomedical research or diagnostics, laboratory technicians in the past relied on analog devices to analyze molecules, cells, and blood samples. However, the past decade has seen significant adoption of digital technologies in laboratory analysis.

From digital microscopes to microplate readers and blood diagnostic devices, many laboratory devices today come with digital readers and displays. Embedded cameras have also been a part of this technology revolution by helping automate and ease various processes in labs such as quality checks, color/pattern recognition, barcode reading, and sample identification.

In this article, we will discover how embedded vision is changing the way laboratory analysis is done. We will discuss several different types of camera-enabled lab equipment, their functions, and the types of embedded cameras suitable for those devices.
Different Types of Camera-based Lab Equipment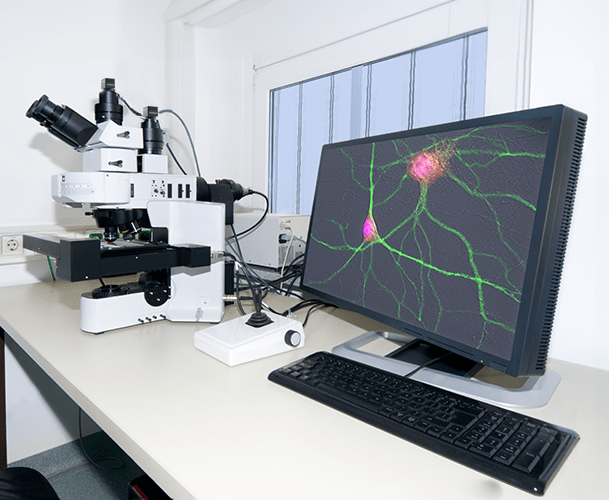 The use of embedded cameras has helped lab practitioners accelerate research and diagnosis processes by:
Offering better details of the sample – thereby enabling deeper analysis.
Performing quality checks on samples (such as checking for bubbles, color variations, etc.).
Providing images for AI-based analysis to diagnose medical conditions and classify sample specimens.
The purpose of a camera will depend on the particular device. Given below are the major types of embedded vision devices used in laboratory analysis:
Digital microscopes
Diagnostic devices
Digital liquid handling systems
While traditional microscopes relied on lenses to observe samples, modern digital microscopes leverage embedded cameras – giving researchers an enhanced view of the sample.

Of the different methods used in digital microscopy, fluorescence microscopy is the most common one. It works based on the principle that when illuminated with fluorescent light, different molecules emit light in different wavelengths.

For this, a substance called fluorophore is used to ensure that the sample re-emits light upon excitation by a fluorescent light source. Cameras are used to capture the emitted light. This data is then analyzed using computer software to identify the characteristics of the sample. Two popular experiments conducted using this principle are immunofluorescence and immunohistochemistry.

Dark field microscopy is another popular technique used in digital microscopy where the samples can be seen in better contrast. This method ignores the unscattered beam from the sample – creating a dark area around the specimen. Hence the name dark field microscopy. In this case, as well, cameras are used to capture the light emitted by the specimen.
Lab diagnostic tests can be broadly classified into LDTs (Laboratory Developed Tests) and IVDs (In Vitro Diagnostics). An LDT is a diagnostic test designed by an individual laboratory to develop its assay. On the other hand, IVDs are standardized diagnostic methodologies that are developed to directly sell to laboratories, health care centers, or consumers.

Embedded cameras have found their way into IVDs since they are produced at scale with a uniform instrument qualification procedure. Further, individual laboratories are unlikely to invest time and effort in building vision-enabled lab equipment owing to cost and resource constraints.

Some of the types of IVD devices used in a laboratory are:
Automated immunoassay analyzer: Immunoassay analyzers are used to identify and detect the concentration of specific substances in a sample. Cameras are used as the measurement unit to receive the light emitted by the sample.


Flow cytometers: Flow cytometers are used to measure the characteristics of cells and other particles. Cameras are used in flow cytometers to measure parameters like chemical composition, size, density, etc.


Viscometers: Viscometers are used to measure the viscosity of fluids. Cameras are used to capture the fluid while using the ball drop technique of viscosity measurement.


Spectrophotometry meters: They are used to measure the chemical characteristics of a sample. Cameras are used to better detect the light reflected by the sample.
Digital Liquid Handling Systems
Liquid handling systems are used to manage any kind of liquid in lab experiments. They find applications in nucleic acid preparation, ELISA (enzyme-linked immunosorbent assays), genomic sequencing, TLC (Thin Layer Chromatography), etc.

Technically, something as simple as a pipet is a liquid handling system. However, embedded cameras are used in more advanced systems called digital/automated liquid handling systems. Camera modules in these devices help with:
Identifying the sample in a test tube
Counting the number of each sample
Ensuring the proper arrangement of samples in a test setup
Depending on the method used for sample identification, cameras can be either monochrome or color. If barcodes are used as identifiers, a monochrome camera will do the job. However, if identification is done based on the color of the test tube cap or the liquid in it, a color camera is needed.
Necessary Features of Lab Equipment Cameras
The type of camera used in lab equipment would completely depend on the device.

Generally speaking, the following are the types of camera modules and laboratory devices used:
Monochrome cameras
Low light/high sensitivity cameras
High-resolution cameras
High frame rate cameras
Global shutter cameras
NIR cameras
Low noise cameras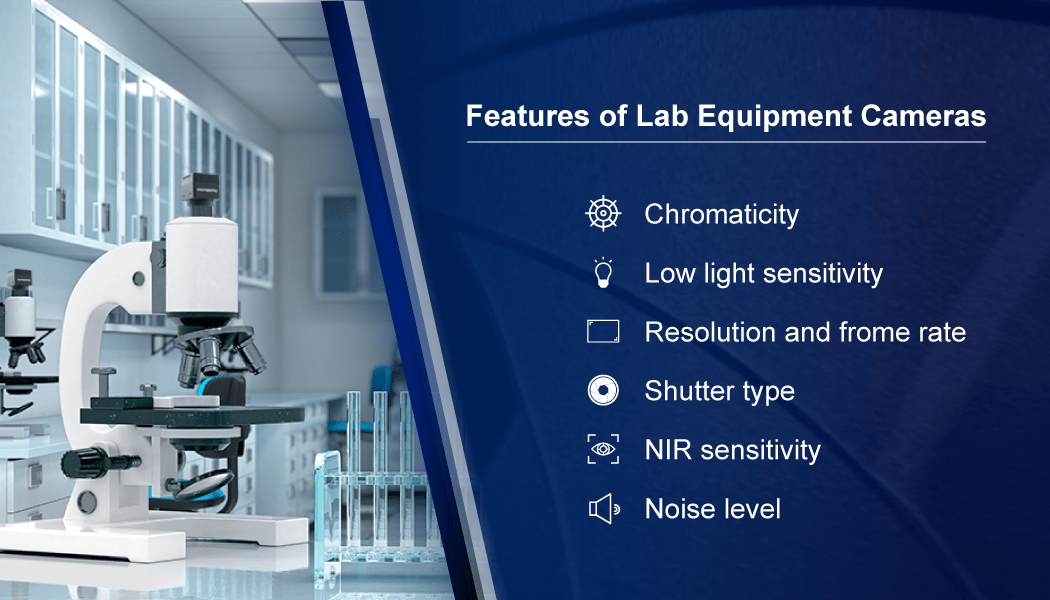 It is to be noted that the camera you choose could come with a combination of features. For example, you might need to have high-resolution and monochrome features in the same camera. Similarly, low noise and NIR sensitivity are a great combination in applications where images have to be captured under a limited light supply.
To understand this better, let us see how each of these features is critical in laboratory devices.
Since monochrome cameras offer higher sensitivity compared to color cameras, many lab equipment manufacturers prefer to use them in laboratory devices. A blood diagnostic device that uses cameras to check the placement of samples using barcode reading is an example of such an application.
Certain types of digital microscopes and IVD devices require cameras to come with high sensitivity. This is because of either of the following two reasons:
The lab testing is performed under low lighting conditions.
The camera is placed inside a device where lighting is limited.
VCI-AR0522-CB – an AR0522 camera from TechNexion – is a great example that can be used in laboratory devices
Resolution and Frame Rate
Resolution is an extremely critical feature in lab equipment cameras since most applications involve the analysis of minute details of the sample. Whether you are testing blood, serum, or any other substance, the more details you can get, the better. 
This is particularly important in applications that involve automated AI-based analyses where medical conditions are often diagnosed without the involvement of lab personnel. In such a scenario, a high-resolution camera that comes with a small pixel size is recommended. The lower the pixel size, the smaller the size of the object it can capture.

When it comes to frame rate, a vast majority of applications will find a frame rate of 60 fps or lower suitable and enough. However, there are specialized lab equipment that need cameras with a frame rate as high as 1000 fps.
In most applications, a rolling shutter camera is sufficient to view the details of the sample in lab equipment. If the sample is of the type where individual particles or molecules vibrate a lot, a high frame rate rolling shutter camera is used. 

But in some cases, even a high frame rate rolling shutter camera can result in artifacts, where a global shutter camera needs to be used.
Modern Near InfraRed spectroscopy devices make use of NIR cameras for data capture. These cameras should come with high QE (Quantum Efficiency) in the Near InfraRed region. Camera-based spectroscopy is used in domains such as food testing & inspection, agriculture, pharmaceutical & biopharmaceutical research, and environmental safety.
Noise often is a tricky subject in embedded cameras used in lab equipment – especially those used in low-light settings. When you attempt to enhance the output of a low-light image using methods like gain, the noise level also increases proportionally. This is why it is extremely important to find a balance between different image enhancement techniques while still reducing the noise in the output image. TechNexion helps its customers with this by using methods like ISP (Image Signal Processor) tuning.
TechNexion – Making Huge Strides in the Field of Lab Equipment Cameras
TechNexion is an embedded systems solution provider that consistently focuses on bringing newer products to the market to help its customers solve vision-related challenges. Our cameras are designed with features such as high sensitivity, high resolution & frame rate, low noise, excellent color reproduction, etc., that make them a ready-to-use solution for lab equipment.
One of our key differentiators in lab equipment cameras is that our products are finetuned to be integrated with the NXP i.MX8 family of processors. This helps you leverage many of our cameras that can be immediately integrated with the processor to build compact laboratory testing devices.
The video gives an overview of all our embedded vision solutions:
We can be the right imaging partner for you as you build the next laboratory equipment, given our experience in the embedded systems industry for 2 decades. We work with our customers right from the camera selection stage to prototyping and product integration.